Women's magazine Femina India used Facebook as a platform to create India's first crowd-sourced magazine issue giving women the opportunity to express themselves.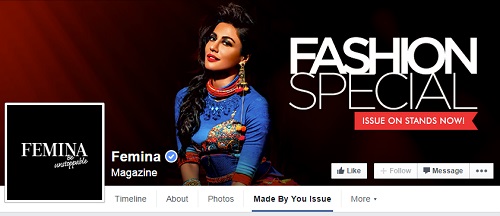 Case study summary
• Indian women's magazine Femina used a Facebook app as a platform for women all over the country to contribute to a special edition of the magazine
• 7,000 women submitted entries to write for the magazine
• The total Facebook impressions for the magazine issue was over 12 million
Challenge
Femina a popular women's magazine in India wanted to give women the opportunity to express themselves. After various social situations in the country which had led to uprisings by women it was time to create a platform for these women to talk about the issues that affected them.
Solution
Femina created an issue of the magazine issue titled 'Made by You' which allowed women to contribute to the magazine that represents them via a Facebook application.
The Facebook application 'Made by You' launched in January 2013 on the Femina Facebook page which has over 1 million likes.
The application focuses on a simple idea – if you have a story, we've got the space. Participants can submit a sample of their written work, be it a story, blog post or essay and if your work fits with the magazine they will assign you an article to write. As well as writing for the magazine women on the Facebook page are also invited to give their opinions on different topics.
After selecting contributors, the Femina India editorial team used Google Hangout as a meeting space and platform for the writers from all over India to share ideas. With the use of this technology the contributors were introduced to the editorial team remotely.
Contributors were also encouraged to promote their article within their social networks to become a word of mouth maker.
Results
The Made by You issue was a success. 7,000 entries were received from over 21 cities in India, out of which 75 women were chosen to write for the special issue. The topics that these women chose to write about ranged from determination and relationships to priorities, humanity and a cocktail of clichés.
This issue of Femina is a great example of the power of digital medium, which helped the magazine to realise that an avid reader can also make a great editor.
Total reach on Facebook was 2.97 million, Facebook impressions totalled 12.1 million and daily people talking about the issue reached 120,394 people. The Facebook page grew by 41,435 fans and got 32,275 likes. Total shares were 4,898 and there were 5,822 comments on Facebook posts.