Oak Furniture Land wanted a new digital campaign that linked its online presence with its 62 stores around the UK. This case study shows how the furniture retailer made smart use of localised targeting to boost revenue by 30% year on year.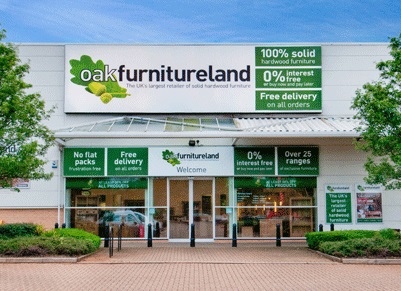 Case study summary
• Oak Furniture Land wanted to connect its online presence with its network of 62 physical stores
• Bronto helped Oak Furniture Land develop geo-targeted email messaging to achieve this. Oak Furniture Land analysed and segmented the postcodes provided by customers during the email sign-up stage, and then targeted customers with messages relevant to their local store
• This lead to increased footfall at new store openings and special sales events
• Overall, the new email marketing strategy boosted Oak Furniture Land's email-generated revenue by 30% year on year
The challenge
British furniture retailer Oak Furniture Land selected the Bronto Marketing Platform to support its omnichannel marketing strategy across its ecommerce website, telesales and 62 physical stores.
Oak Furniture Land, a member of The Sunday Times Fast Track 100 listing, is the largest furniture retailer in the UK to manufacture its own products. The omnichannel retailer was founded in 2004 as an online-only outfit selling via eBay and successfully launched an ecommerce website in 2006. Today Oak Furniture Land has built up a strong bricks-and-mortar presence with 62 stores throughout the UK and strives to provide a unified omnichannel shopping experience across its physical stores, ecommerce website and phone.
The solution
Oak Furniture Land was keen to develop dynamic and automated marketing content using geo-targeted messaging to take advantage of its stores throughout the UK. In the initial purchase stage, subscribers to Oak Furniture Land would submit their postal code. Using the Bronto Marketing Platform, the retailer grouped the customers into segments depending on location, and then sent them messages that were personalised specifically to their local store. The geo-targeting approach also boosted traffic to the stores during new store openings or special sales events.
The results
Since going live, the retailer has been able to implement more targeted and personalised email marketing, boosting email-generated revenues by more than 30 percent year-on-year while improving customer engagement across all sales channels.
Oak Furniture Land's targeted emails proved extremely efficient in driving online sales too. By developing and deploying a creative and optimised email campaign in the run-up to the Christmas season, the retailer was able to enjoy a significant 40 percent year-on-year boost in email-generated revenue during November and December 2014.
In addition, Oak Furniture Land was able to analyse past-purchase data with the Bronto Marketing Platform http://bronto.co.uk and identify those customers who had previously bought items within a particular product range. The retailer then sent targeted emails to those customers, showcasing other items that would likely be of interest. This data-driven approach successfully drove a significant increase in revenue.

Sophia Greenslade, CRM Manager for Oak Furniture Land says: "We want our customers to enjoy shopping with us, and so we concentrate on creating emails which they actually want to see. This means developing content which has been personalised and well thought-out. Bronto gives us the necessary insight to achieve this."
Georges Berzgal, Managing Director of Bronto Software Europe, says: "Oak Furniture Land is an interesting omnichannel retailer story told in reverse; it began selling online, before later opening up physical stores. This is another great example of an omnichannel retailer leveraging data in an innovative and automated fashion, driving revenue growth by focusing first on adding value to its customers."