Staff at Australian airline Qantas kept up their end of a bizarre social media bet after New Zealand triumphed in the Rugby World Cup final. This case study looks at how the friendly wager resulted in a victory for both sides on Twitter.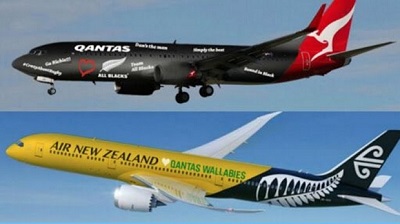 Case study summary
• Rival airlines engage in Twitter bet over result of Rugby World Cup Final
• Conversation plays out on social media attracting fans to #AirWager
• Quantas loses bet and flight crew wears rival shirts- but emerges as the winner in social media reputation
The challenge
Before the 2015 Rugby World Cup final between the Wallabies and the All Blacks, Quantas engaged in a bit of Twitter banter with rivals Air New Zealand, and the end result was a wager that would see the 'losing' airline wear their opposition's rugby colours for a day.
Air New Zealand started the Twitter exchange on Friday by tweeting a digitally altered photo of a Qantas plane painted completely black, with slogans including "Team All Blacks", "bound in black" and "simply the best".
"We've been thinking about this wager. How about you paint your planes like this?" the airline said.
Qantas responded with their own image of an Air New Zealand plane in bright Australian gold, saying they "think it needs a golden touch".
Air New Zealand responded: "We wouldn't want to slow our planes down … with all that extra paint", to which Qantas quipped: "We wouldn't think you'd be in a hurry to get here when you lose."
Qantas planes usually fly in a white-and-red colour scheme, while Air New Zealand usually fly white aircraft with a black tail.
.@FlyAirNZ While black is slimming, we think it needs a golden touch. Something like this... #AirlineWager #NZLvAUS pic.twitter.com/FxADqwUsdJ

— Qantas (@Qantas) October 29, 2015
The wager
The exchange was well-received by rugby fans and Twitter followers, prompting a more realistic proposition.
"How about this? On Monday in the air, your crew wear our jerseys," Air New Zealand suggested on Friday.
"It's on! But let's not leave the pilots out!" Qantas agreed.
.@Qantas OK, how about this? On Monday in the air, your crew wear our jerseys. #AirlineWager #NZLvAUS

— Air New Zealand (@FlyAirNZ) October 30, 2015
Both companies then agreed to "take this offline" to formalise the bet.
The results
The All Blacks won the clash 34-17, and on Monday morning the Qantas staff were made to pay up by donning New Zealand rugby jerseys to work.
Air New Zealand praised their airline compatriots for being such good sports, despite having to endure the humiliation of World Cup final defeat twice over.
Today @Qantas played good sports and followed through with #AirlineWager wearing @AllBlacks jerseys on board. pic.twitter.com/2tRjgxcboI

— Air New Zealand (@FlyAirNZ) November 2, 2015
Though they may have lost the bet, Qantas won social media, garnering 1,200 retweets for following through on the #AirWager.
It also neatly contrasts with a similar exchange between Burger King and McDonalds earlier in 2015, where a frosty response from McDonald's resulted in a torrent of negative responses from social media fans.
In the case of Quantas, maintaining a friendly tone with its rival did very little to harm its reputation. In fact, by losing the bet and playing along with the forfeit, its arguable they got more positive publicity than their Air New Zealand rival.