The Electoral Commission partnered with Squiz, the digital transformation business, to develop its EU Referendum microsite, which was created to provide an online information hub for voters in the lead up to the referendum.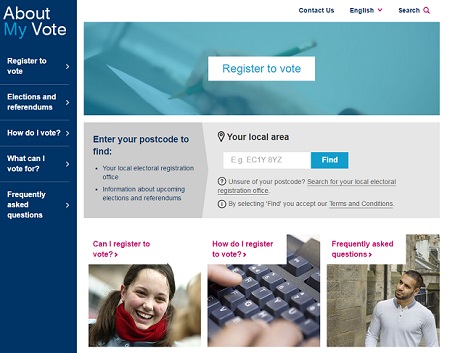 Case study summary
• Digital transformation company Squiz created EU referendum microsite to provide tailored information for eligible voters
• 85% of website users viewed the microsite on mobile
• Facebook's voter information button drove 2.6 million page views to the microsite
The solution
On Referendum Day, Facebook offered the 'I'm a Voter' button, which allows users to share that they have voted on their timelines. In addition, Google linked to the microsite from their app Google Now Card. This activity resulted in more than 2.6 million page views on the microsite, 2.1 million of which were unique users. In addition, 85% of users viewed the microsite on mobile so it was imperative the site was responsive to this device.
This increase in traffic did not have a negative effect on the user experience of the 'About My Vote' site due to the Squiz Edge Network technology, which securely and seamlessly serves users from multiple hubs around the world, ensuring that an API can handle the load.
Squiz created an accessible, centralised location for all of the referendum information built on its Matrix CMS system. The existing 'About My Vote' website directs users to the Referendum Microsite where they can then self-serve information relating to their personal requirements as a voter.
Morgan added: "Our plans, solutions, and the overall experience we created had to meet the needs of a wide ranging audience. The user experience had to be simple and seamless but we also wanted to create a unique brand that could be distinguished from other existing Electoral Commission websites. The investment in digital by the Electoral Commission is allowing the organisation to better reach today's tech savvy audience of voters."
Squiz has worked with The Electoral Commission for eight years and has already created two other websites for the organisation. 'The Electoral Commission' site is a source of information for everything to do with running, standing for, campaigning or voting at elections in the UK and the 'About My Vote' hub is focused on providing the public with information on taking part in elections.
The results
During the six weeks it was live (13th May to 24th June), the microsite had over 4.2 million page views, with 3.5 million unique users. The average time spent on the UK voters' page was 2:49 minutes - 47% higher than the general average for that period.
Ashleigh Yardy, Senior Communications Officer at Electoral Commission commented: "People wanted to be able to engage with the EU Referendum digitally and the response to the microsite was fantastic. Squiz worked with our neon creative to catch the attention of voters digitally and it became a hub for voters to find information about their vote."
Stephen Morgan, Co-founder at Squiz commented: "The Electoral Commission's advertising was directing people to About My Vote so our job was to create a microsite that would be recognisable to voters, utilising the same neon creative, as well as providing them with all the information they needed to vote with confidence in the EU Referendum."