Iced tea giant Nestea ran a variety of Instagram ads to successfully introduce its new iced tea drinks, achieving a 5-point lift in purchase intent overall.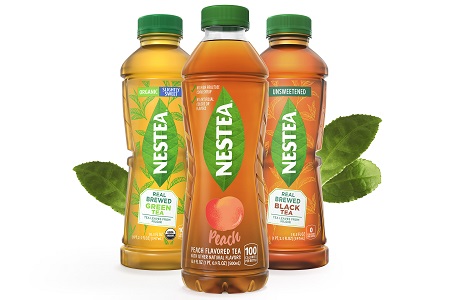 Case study summary
• Nestea wanted to promote its rebrand and new iced tea flavours
• Used Instagram video ads with automatic placement optimisation to avoid reaching the same people twice.
• 12m people were reached with 5-point lift in purchase intent overall
The challenge
Since launching in 1947, Nestea has offered innovative iced tea products. In 2017, parent company Nestlé Waters completely relaunched the Nestea brand with a refreshed logo, redesigned bottles and completely reformulated tea recipes.
The company wanted to make people aware of its revitalised brand and the release of new iced tea formulations, including unsweetened varieties and classic fruit-flavoured teas that are made with fewer ingredients.
The solution
In 2016, Nestlé Waters had successfully tested new Facebook ad formats for its Perrier brand campaign, so the company decided to use what it had learned to develop its NESTEA ad campaign on Instagram and Facebook.
The spring 2017 campaign was designed to create excitement about the launch of its new iced teas made with simple recipes, which boasted fragrant tea leaves from Nilgiri, India for an improved, authentic taste.
Nestlé Waters partnered with agency 360i for the ad creative, and MetaVision for media planning and buying. 360i solved viewability challenges by following Instagram's mobile best practices for carousel and video ads in News Feed and by displaying powerful and appealing up-front product branding.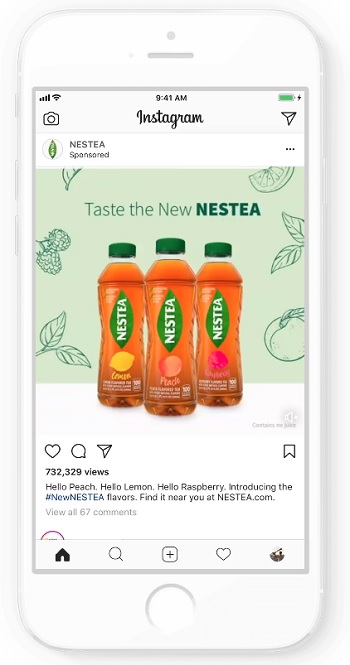 The ad creative showcased the clean look and feel of the sleek new easy-grip bottle, and featured a crisp image of tea splashing into an iced-filled cup along with fresh tea leaves and slices of lemon. The short video ads focused on introducing the "new" Nestea brand, and highlighted three fruit-flavoured teas along with vibrant illustrations of peaches, lemons and raspberries. Automatic placement optimisation ensured budget efficiency and avoided reaching the same people twice.
The results
• 5-point lift in purchase intent overall
• 11-point lift in purchase intent among females aged 25 to 34
• 12 million people reached
The campaign was targeted at a broad audience of millennial males and females aged 25-40 in the US who are health conscious and interested in organic ingredients. Nestlé Waters conducted a Facebook brand lift study to measure how effectively the March to May 2017 campaign drove awareness and purchase intent. Twelve million people were reached, and it also found that there was a 5-point lift in purchase intent overall, and an 11-point lift in purchase intent (among females aged 25-34).
Cathy Gallo, Digital Strategist at Nestea, said: "Nestea had a lot of exciting news to share in 2017. Leveraging powerful ad units gave us an opportunity for deeper storytelling with our consumer in an immersive and memorable way. Our multimedia assets complemented the experience and campaign results proved that this was an effective way to drive both awareness and future purchase."
Ray Romero, Chief Digital Officer at Metavison, said: "Through structured test and learn programmes, we strive to deliver accountable and repeatable outcomes for Nestlé. By using Facebook/Instagram's new ad formats for NESTEA, we identified a measurable opportunity which delivered a strong lift in purchase intent against a key target segment. Our client was very pleased with the campaign's performance, which set a new benchmark for this brand."