Digital ad campaigns which only rely on cookies for ad targeting can sometimes produce misleading results, wasted impressions and missed conversions. For the launch of MAC's new eye shadow line, the cosmetics brand used people-based marketing (programmatic media targeting) to improve their campaign targeting and increase ROI.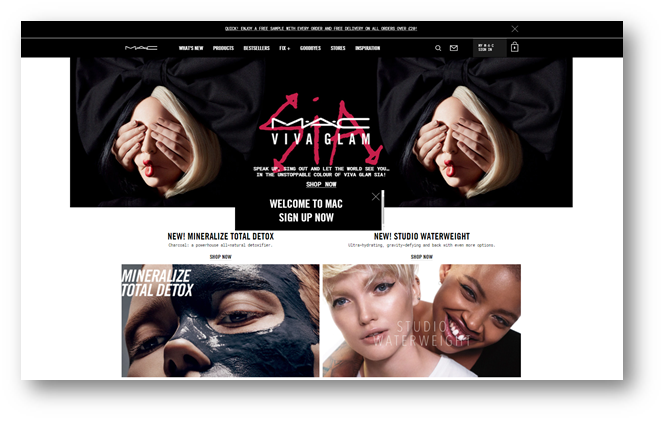 Case study summary
• MAC cosmetics used people-based marketing to identify ad impressions which were not reaching its key audience
• MAC found that 1/3 of media impressions (18% of spend) was going to men rather than women.
• MAC managed to improve ROI and saw a 16% increase in conversions
Challenge
MAC cosmetics worked with their digital agency NetBooster to generate awareness for the launch of a new eye shadow line and drive ecommerce sales. The target market for the display campaign was women aged 18-24 (primary) and 25-44 (secondary). The results from previous campaigns using cookies showed that 18% of the ad budget had been wasted and some conversions had been "lost in attribution" due to cross-device behaviour. To optimise future ad spend and improve reach among target audience, MAC wanted to see media demographic insights to compare people and cookies.
MAC decided to use Facebook tool Atlas' people-based marketing for their new display banner campaign to validate channel performance and quantify who actually received the targeted ads.
People-based marketing – what is it?
In the digital world people can be identified by small pieces of code called cookies. Cookies determine which ads we see and can measure our online interaction. However, cookies on its own don't work across devices, browsers or mobile apps which means that they see each device as a different person.
Atlas, owned by Facebook, is offering a service called people-based marketing which connect the dots between people, their devices, online activities and offline sales. People-based marketing allow you to follow the consumer throughout the consumer journey and can thereby help brands gain a better understanding of their campaign impact and real business results. This means that instead of just using cookies to analyse the online behaviour of their potential customers, MAC was able to see their age, gender, interests, name and other important information provided through their Facebook profiles.
Results:
People-based marketing has given MAC a better understanding of campaign reach and delivery

• By using people-based marketing instead of just cookies, MAC found that men previously represented up to 1/3 of their campaign impressions and reach across the top 4 publishers - even though the goal had been to target women.
• These wasted impressions represented up to 18% of total ad spend
• By using People based marketing, MAC had more success in targeting their display ads at the right audience and received a better ROI
Channel effectiveness:
• Smart targeting on niche publishing sites e.g. beauty blogs performed better and were more cost-effective than display ads on more generic, powerful sites e.g. Vogue or BBC. However, many brands still want to advertise in high quality editorial environments (beauty, fashion, lifestyle) despite of possible media waste to increase brand equity and association with the right topics.
Attribution accuracy:
• People-based delivery identified 16% more conversions than cookie-based, demonstrating the value of understanding mobile data and measuring cross-device conversions in future campaigns
• Cookies were also found to overstate the campaign's reach by 9%, while also understating ad frequency by 10%.