Amid a recession and decline sales in Brazil, Ruffles developed a mobile augmented reality game and social media campaign to win over teenagers by creating more moments of friendship.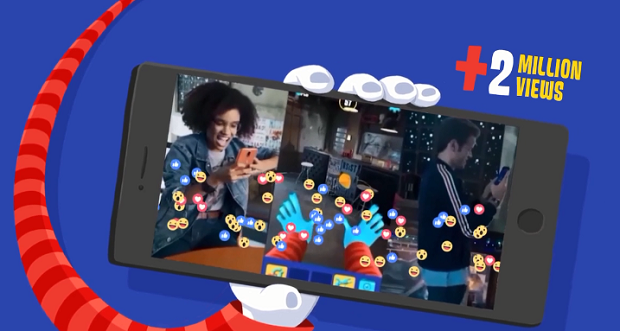 Case study summary
Snack brand Ruffles underwent brand overall with new campaign tagline #weareallnthesamebag
Amigo AR game encouraged teamwork using mobile camera
Sales up 43% and users engaged with the app for an average of six minutes every day
The challenge
For over 30 years, Ruffles led the field as an iconic potato-based salty snack brand for adolescent Brazilians. As Brazil sank into a recession, Ruffles sales declined dramatically and consumers began purchasing cheaper brands.
To combat the recession mentality, Ruffles became a brand of promotions and new flavor launches. In the short-term this strategy helped relieve some of its decline, but Ruffles' sales continued falling steadily as soon as campaigns ended. The result of such behavior was a product-oriented brand that only created promotions, ignoring brand equity objectives.
Ruffles had a major challenge in 2017: to reconnect with its teenager target, stop sales from falling further, and return to growth in the long-term. Its diagnosis was that the brand was behind the times, and needed to be repositioned.
Major changes had to be made to the Ruffles brand, which was at a critical stage. In a brand overhaul that brought key takeaways to light, Ruffles recovered its relevance for teenagers. Having always embodied the spirit of this generation, it aimed to resonate with teenagers in Brazil between the ages of 12 and 18.
Teenage years are filled with stress and confusion, and friends are the one crucial element that can help young consumers find relief. Ruffles decided that it would become the brand dedicated to creating more moments of brotherhood, and adopted the new tagline: RUFFLES. #WEAREALLNTHESAMEBAG.
The solution
Along with a new campaign, Ruffles needed to present a new brand. Knowing that a three minute video manifesto about the importance of friends wasn't going to grab the attention of teenagers, Ruffles created a game that would be relevant in their eyes: AmiGO.
The augmented reality, mobile-only game transformed friends into characters. To participate, a user activated the camera on their phone and put in headphones. Their friends could see what the phone's camera saw, while the user saw what the game showed them. Thanks to the game's augmented reality, friends would see Ruffles chips around the user, and they could send voice commands to guide the user to grab the chips. The user had to follow their friends' directions since only they could see the Ruffles. The more chips the user grabbed, the more points for everyone. The points went into a weekly ranking, and top scorers were announced on the brand's social media accounts.

The campaign was divided into three stages:
HYPE: High-impact media such as Facebook videos designed to receive broad coverage by partnering with influencers
MATURITY: Peak engagement to spark and encourage conversations about the game
DECLINE: As interest waned, content created by influencers was promoted on social media accounts to encourage consumers to play
Mobile Execution:
Ruffles understood that its target consumer generation spends a lot of time on their phones. According to data from 2017, 42 percent of Brazilians between the ages of 15 to 17 only access the internet on their phones.
In addition to the creation of a mobile game, content and media investments were directed at social networks (Facebook, YouTube, Twitter, and Instagram) and mobile-driven formats that encouraged consumers to download the app.
The results
After six months of decline, Ruffles raised its sales by 43 percent and consumption increased because of its repositioning campaign.
Additional results included:
More than 26,000 downloads of the app during two months of the campaign
Users engaged with the app for an average of six minutes every day
More than two million views for a single Facebook live session that was created with soap opera actors and featured Ruffles content
AmiGO was among the 10 most talked about campaigns on Twitter in October
Ruffles ranked as one of the 15 most valuable brands in Brazil, the only new brand on the list