The makers of a digital highlighter achieved a 12.9X return on ad spend after testing multiple Facebook ad formats in a series of campaigns to identify the most effective ways of reaching prospective customers and driving sales.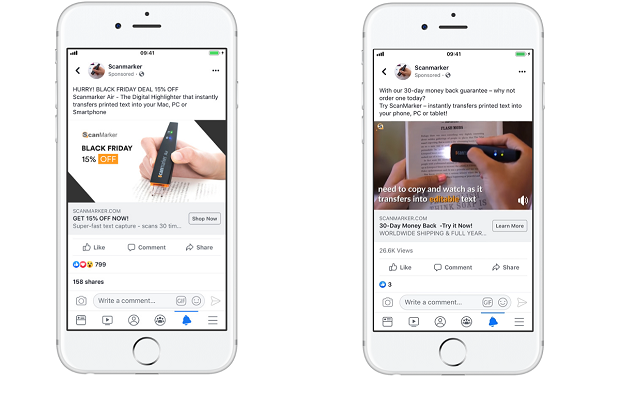 Case study summary
Pen brand wanted to build awareness of new model with its target audience of students and drive website sales
Dual facebook campaign introduced products worldwide to look for for potential customers, then retarget to drive sales
Monitored ad trends to adapt the creative to resonate better with younger audiences
Acheived 8.6X increase in conversions and 3X higher return on ad spend than goal
The challenge
Founded by Dr Reuven Regev in 2010, Scanmarker is the brand behind an innovative pen-shaped digital highlighter. The Scanmarker pen allows people to scan and transfer text direct from the page to a range of computer programs and even translate it into more than 40 languages.
Scanmarker wanted to build awareness of its wireless model, the Scanmarker Air, with its target audience of students, academics and office workers, as well as driving sales of its products on the website. It set itself a target of achieving a 4X return on ad spend for this campaign.
The solution
Scanmarker asked digital agency anova.co to help it introduce its products to target audiences around the world, then drive sales. Their solution was to run dual campaigns during a 3-month period: one to look for for potential customers and drive traffic to the website, and another to reach people who had already visited the website to drive website sales.
This campaign used multiple ad sets to educate international audiences about the Scanmarker Air. Scanmarker and anova.co prioritised English-speaking audiences in countries such as the US, UK, Canada and Australia, as well as identifying secondary audiences in countries like Mexico, Brazil, Japan, India and South Korea. Using interest and demographic targeting, audiences were segmented into groups such as students, teachers, researchers and business professionals. Scanmarker also created lookalike audiences based on previous purchasers.
People saw ads in a number of formats, including video ads and slideshows, as well as Instant Experience, which allowed Scanmarker to create a mini landing page ad with more room for text and product information than other ad formats. Scanmarker and anova.co then noted which audiences and formats were performing best and adapted the campaign strategy accordingly.
This parallel campaign initially focused on people who visited the website as a result of seeing the prospecting ads, and who took specific actions, such as adding a product to the basket. These people saw ads in the days following a website visit that offered an exclusive time-limited discount to stimulate the purchase process.
At the same time, Scanmarker discovered that some of its videos were being shared widely across Facebook organically, resulting in a spike in video views. Scanmarker and anova.co quickly acted by also showing further ads to people who had viewed this viral content.
Scanmarker and anova.co monitored ad trends and performance and used the insights gained to further improve campaign results. For example, they noticed that even though the product was targeted to a younger audience, most purchases were being made by people aged 45 and older. As a result, they adapted the ad creative to resonate better with younger audiences and ran a new campaign based on this demographic.
The results
Scanmarker's October–December 2017 campaign exceeded its target return on ad spend goal by 3X, and resulted in a marked increase in sales:
12.9X average return on ad spend for campaign

8.6X increase in conversions, compared to previous year


3X higher return on ad spend than goal