This interactive dance event from Nike combined social media with an impressive art installation- creating a huge social buzz in Taiwan in the process. This case study looks at how the sports brand used the event to generate interest in its 'Airforce One' trainer- generating over a million Facebook impressions.
Since 1983, Nike Air Force One trainers, outside the basketball court, has fused with street, art, music and fashion trends to become a culture and a language of "cool". 2013 was the 30th anniversary of Nike Air Force One.
The celebrate this milestone, Nike invited various street dancers to wear the trainers with built-in sensors that interacted with the dancefloor. The dancers performed live and draw unique drawing with their explosive dance moves.
This event held in Taipei, Taiwan, over one thousand attendees crowded the place to full in 30 minutes, dancers' improvised creations led the audience burst into cheers.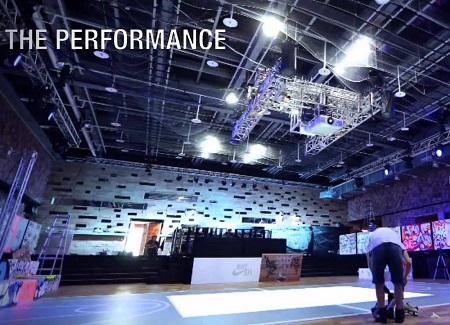 Working with agency Ogilvy & Mather Taiwan, the project went through half a year of planning and discussion to bring the event to life.
Internet video, Facebook and posters in-store and on campus were employed to promote the performance. These Air Force Ones created with the dancers' drawings were first put on display in a dedicated exhibition and then given to composers, manga-illustrators and street performers to experience.
On the performance night, the venue was jam-packed with people trying to get in. Around 800 people crammed into the venue with a capacity of less than 600.
Special souvenirs had to be distributed last minute to pacify the young people who couldn't get in.
The subsequent exhibition was equally popular, requiring crowd control to manage the crowds.
The event generated a lot of earned media, with 8 press reports and 64 media releases. The subsequent social media activity generated over one million impressions on Facebook.