Forget QR Codes or PayPal- this low-budget digital marketing campaign in Australia got restaurant diners to pay for their food with a kiss. This case study looks at how Metro St James played on its romantic French image with a YouTube viral and mobile app that generated half a million internet mentions and a raft of earned media space.
Metro St James is a small chain of French Bistros operating around Sydney with a clear objective to raise its profile. The firm hired agency Lavender to use the cafe's French influence and let customers pay for their coffee by kissing each other.
The real challenge for Lavender was to utilise a 'super small budget' and make it something unforgettably big.
In response, the agency created a YouTube viral video alongside a 'Kiss Register' app, allowing images of kissing couples to be shared on Facebook and Instagram instantly.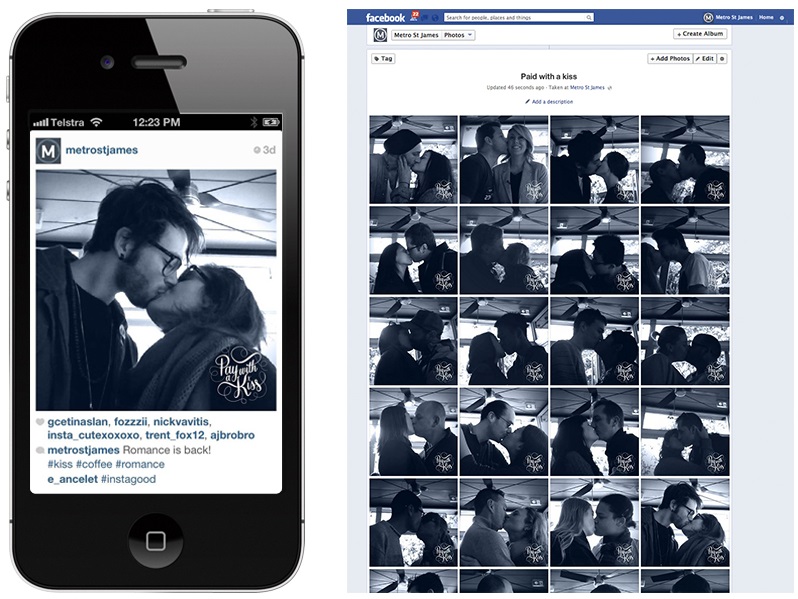 In the promotional video the establishment posted on YouTube, customers who entered the café in pairs were surprised when they were handed their bill. The server gave them an option of to pay for their coffee either with cash or with a kiss.Those who chose to pay with a kiss must perform the act in front of the server.
"Do you know that instead of paying, you can kiss and have a free coffee?" the server said in the hidden cam-style video. "It has to be a real kiss. I can see if it's a fake kiss. Trust me, I'm kind of a specialist," he continued.
"At Metro St. James, we don't want your money, just your kisses!" the staff said at the end of the video.
In addition, an iconic photo recalling Robert Doisneau, (renowned for his 1950 image Le baiser de l'hôtel de ville, a photograph of a couple kissing in the busy streets of Paris.) was created for outdoor and digital so the campaign had a face: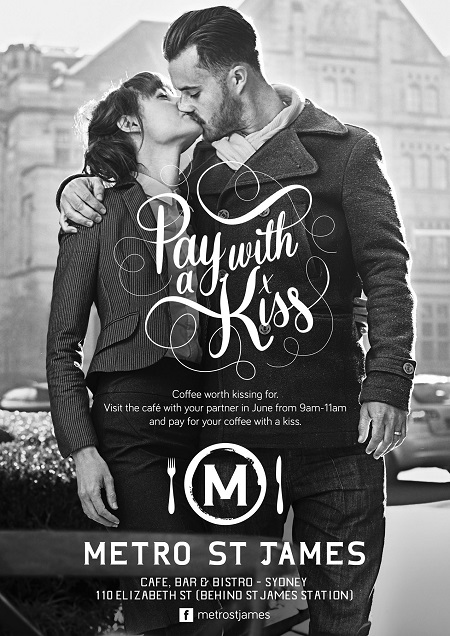 The YouTube video went viral, getting over 800K YouTube views, it was published in over 140 news sites across 29 countries, over 23 TV and radio coverage (3-5 minutes segments), 2.41 million in earned media, a 120 to 1 return on media investment and there were 586,000 mentions on the internet.
Watch the original promo video here: