AXA's biggest challenge in Indonesia was to find ways to improve on the low awareness in the country of 240 million, which only had a 2% penetration level for insurance companies. This case study looks at how the insurance brand ditched 'pushy' sales tactics in favour of strong digital content on social and mobile platforms to create buzz around the brand.
Case study summary
• Health insurance brand needed to boost awareness in market were only 2% are insured
• AXA used content marketing to 'pull' people into brand
• Created special events, online portals and mobile app
• 187% increase in traffic and 485% increase in new unique visitors
• Overall platform now contributes more than 150 business leads for AXA health insurance daily
Challenge
AXA has been present in Indonesia offering various insurance products for the past 15 years and brand awareness has been really low. It launched an integrated campaign, through Havas Media Indonesia, to focus on creating platforms for educating Indonesians on the long term benefits of buying insurance policies.
The objective was to increase brand awareness, not only for the customers, but to help open doors for more prospects and opportunities, to motivate staff and existing customers and to boost the agency morale.
AXA wanted to establish itself as a leader in health insurance by positioning the brand as the gateway to accessible healthcare in Indonesia. The objectives were to increase total awareness of brand to 76 per cent from 65 per cent and to increase brand consideration to 40 per cent from the 30 per cent for health.
Solution
The Indonesian healthcare system is very poor with less than six hospital beds for every 10,000 people—one of the lowest ratios in the world according to the World Health Organizatiion. The government is making investments in this area. In the next couple of years, Indonesia hopes to open hundreds of hospitals with a total of 100,000 new beds.
Indonesians do not have much faith in the quality of healthcare in their own country, and this is illustrated in the overwhelming amount of negative sentiment online. To add to this, there is not much easily accessible public information available for the average Indonesian.
Insurance agents are seen as a nuisance more than anything else, and there is a serious lack of education and understanding on the long-term benefits of insurance. The image of insurance companies is mostly shaped by demanding and pushy agents whose sole objective is to sell without knowing the need.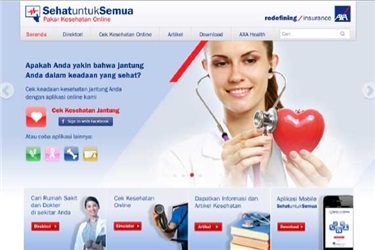 AXA launched branded platforms for education to build awareness and buzz, to project itself as an 'expert' and as a 'partner' in providing access to quality healthcare at core of the strategy.
The brand moved away from pushy sales tactics and focused on creating pull in the market for health insurance by educating consumers through ground events called AXA Health City and an integrated online education platform for health.
The event was conducted in three cities, amplified through sponsored articles online and social PR. It also offered on-the-spot health check ups, chats with experts and doctors and tips on healthy lifestyle.
AXA also created a portal, SehatuntukSemua.com, to provide access to quality healthcare information such as a location-specific hospital directory, doctors' listing, health simulators and health-related articles. It hosted event updates on the AXA health city.
This initiative was extended to mobile to create Indonesia's first branded mobile app for healthcare information, which enabled users to easily locate the nearest hospitals and clinics. The app also leveraged inherent mobile functionalities like route to hospital, as well as click to call hospitals and doctors.
Results
There was a 187% increase in traffic to the website during the campaign period, with a 485 per cent increase in new unique visitors. Search trends on AXA show a lift of 25 per cent from earlier levels.
SehatuntukSemua.com received more than 250,000 views, and is now at a run rate of 23,000 UV's per month, growing to be a long-term platform for the brand to educate and empower consumers.
The mobile platform has already delivered more than 1,500 downloads for the app, and the overall platform contributes more than 150 business leads for AXA health insurance daily.
The offline event AXA Health city touched more than 20,000 people on ground with massive coverage on the event on earned media channels. It is now going to be an annual programme in 12 cities.
The Yahoo homepage was converted into a 3D brochure, reaching 5.5 million users in one day, with more than 7 million branded interactions with the ad. Mobile rich media ads generated more than 18 million impressions in one month, with an average of 157 seconds spent by consumers on the ad.
The platform received more than $500,000 worth of earned media coverage on leading newspapers and websites.
The integrated campaign and platform delivered more than a 50 per cent increase in spontaneous awareness and sales of health products, which was the highest jump in sales for AXA in Indonesia in the past 15 years.