With content marketing spilling onto social media, the context of each post becomes crucial- as one baby buggy manufacturer learned the hard way. In July 2015, a photo of young bikini-clad model and mum running with a Bugaboo stroller caused outrage on Facebook. The image, originally published as part in a Vogue Netherlands article, was then posted on Bugaboo's Facebook and Instagram profiles- prompting reactions from admiration to disgust. This case study examines the lessons we can learn from this social media storm.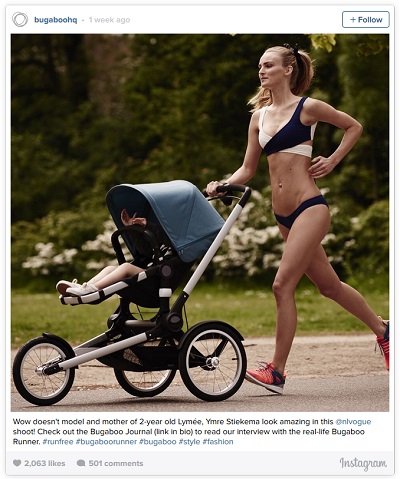 Case study summary
• Bugaboo unintentionally bugged mothers with an image it posted on social media
• Brands need to make sure images posted on social media are not out of context
• It is essential to have a social media crisis management system in place so you can respond (if necessary) to any complaints
When stroller manufacturer Bugaboo posted an image of a famous Dutch model running with her daughter in a stroller on social media platforms Facebook and Instagram, it's clear they did not anticipate that an image of a mother and pram could cause such outrage amongst mothers.
The image was originally part of an interview in Vogue Netherlands with the model, who has walked for Prada and Dolce & Gabana. In the interview Ymre Stiekema talks about how she is a keen runner, inspired by her Father who used to run in marathons. Within the context of high end fashion magazine Vogue, the image makes sense. However when Bugaboo posted the image out of context on Facebook, mothers were not happy.
Many mothers thought that the image was part of an ad campaign for the $800 stroller (which it wasn't) and took offense as it is an unrealistic picture of an average mother. Out of the context of the Vogue magazine spread the reaction to the image appears to be déja vu of the recent Protein World "Are you beach body ready?" campaign, which angered thousands of women in London.
It is interesting to note that the majority of the negative comments were on Facebook, however when the same image was posted on the Bugaboo Instagram account many of the comments are positive congratulating Ymre Stiekema on her body as a mother and the image has received over 2000 likes. This is probably down to the fact that Instagram has a large community of women inspiring and motivating each other to get into fitness and the platform is full of images of women (and mothers) working out in similar attire, such as Kayla's army (BBG girls) and the Body Coach's SSS followers.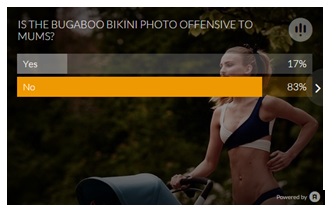 This poll of 2400 women suggests that the majority of women don't actually find the image offensive, the overall consensus is that it is unrealistic.
Bugaboo have not officially replied to any of the comments about the image on social media, only replying to a customer service enquiry asking about the suspension of the stroller. They did however release a vague statement to traditional media saying "We want to inspire mums and dads everywhere to explore the world with their families, while keeping up with an active and healthy lifestyle."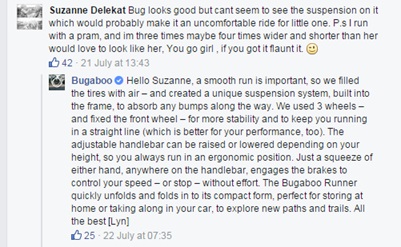 Given the recent outrage over Protein World's "Are you beach body ready?" campaign and the backlash against the 6ft1 mannequins used in Topshop this week, it's clear that brands need to be careful when using images of women with "perfect bodies". This is particularly important for a brand such as Bugaboo who is marketing to new mothers, whose bodies have changed during pregnancy and may be feeling particularly self-conscious about their body.
This is not to say brands shouldn't use models, but it's important it is done in the right context. Lingerie brand Victoria's Secret consistently uses the most beautiful models in the world in their ad campaigns, and it works as the images are in the correct context.
What can brands learn from this?
1. Context: The image makes sense as part of a vogue shoot but randomly posting it on social media created the problem.

Learning: Don't just post whatever image you have on social media without thinking
2. Controversy: Some brands intentionally want to stir up debate and drive engagement around themes, for example Marmite's "End neglect" campaign.
Learning: It appears unlikely that Bugaboo posted this image on social media to drive controversy and start a debate however that's what happened, this is an example of how to do it.
3. Social media management: If a brand wants to stir up strong feelings, they need to have a plan in place to deal with it. Protein World embraced the controversy and got considerably more publicity because of it. Bugaboo stayed above the fray and just let it play out on social media only making a very cryptic statement on traditional media.
Learning: The fact is there is no right or wrong in this situation as it's difficult to know what would have happened if Bugaboo had reacted differently. The best advice for brands is to pick an approach and stick to it, remembering if you start engaging you have to be prepared to fully back it up as Protein World did.
4. Customer service: The one thing Bugaboo did do was reply to the customer service enquiry which was right.

Learning: Never neglect customer service.
View the original post below: