Building a premium brand in China is a tricky task. But American Airlines took a long term approach to build quality content, developing a leading online resource for Chinese citizens traveling to America. This content marketing case study shows how, with a limited budget coupled with aggressive targets brands can get strong results.
Case study summary
• American Airlines creates online resource for Chinese citizens traveling to US
• Low budget campaign earned 5 million impressions on social media and 50,000 social media fans in a year
• Strong content led to Chinese students acting as brand ambassadors for the airline
The challenge
Social media and digital marketing company Mailman Group was tasked with creating a content rich community for the iconic American Airlines.
The solution
Instead of pushing the 'buy me, buy me' promotional messages that plague the Internet today, thye agency invested in 'valued' content that would drive longer engagement and established AA as the airline they cannot fly without.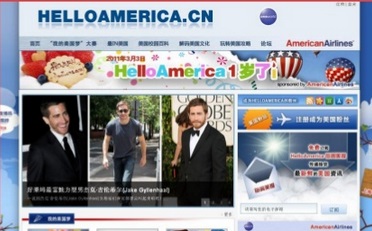 Populated by students with ambitions of a USA trip, the website, social media channels, and campaigns set the standard in future content driven communities in China.
The results
Zero traffic and an awareness of less than 1 in 10, American Airlines built a community decked out with user generated tools, a contest to win a trip to America and a wealth of content designed to help people on their USA travels.
As a bonus, the campaign connected with Chinese born students studying in America, in turn prompting them to act as ambassadors ensures the product remains socially driven and accepted by peers.