Nestlé's Drumstick used a different angle for its Periscope marketing. Rather than running video feeds of its facilities and employees, it made its customers the focal point of the Periscope campaign. This case study looks at how the FMCG giant generated more than 5,000 views and more than 50,000 hearts in just over 12 hours with smart social marketing.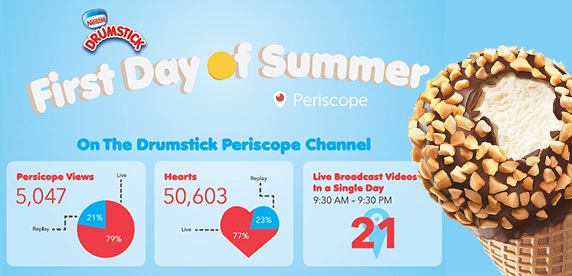 Case study summary
• Ice cream brand focuses on customer's summer experiences in live stream
• Nestle visited summer events during first summer day, while 4 'influencers' created own broadcasts
• Brand used Twitter to amplify its campaign
The challenge
Ice cream brand Nestlé Drumstick used Periscope to live stream 'iconic summer moments' on June 21 2015, including backyard barbecues and a visit to an amusement park. Four 'influencers' also created their own Periscope broadcasts, and the brand used Twitter to amplify its campaign.
Periscope is a social media platform that lets users broadcast live videos to followers, who can comment in real time and send 'hearts' that flutter up on the screen. Since Periscope accounts are linked to Twitter, it posts links that alert users to real-time broadcasts. The broadcasts are also available to replay for 24 hours after each live stream ends, after which they disappear.
The solution
Nestlé's Ice Cream brand Drumstick became the first to run sponsored Periscope streams, in line with the Summer Solstice.
The company reached out to a number of Nestlé fans across the world and convinced them to eat their drumsticks on video. The feeds were then broadcast on Periscope so that other customers could see the brand in a more personal light than ever before.
A number of influencers posted streams on their own channels, including the hashtag #FIRSTDAYOFSUMMER, which were supported by Promoted Tweets from Drumstick.
Nestle brought in 100 staff to work on the campaign.
The results
Meredith Saxe, brand manager for Nestlé Drumstick, said that the strategy has been remarkably effective. "These content creators regularly reach their followers on Periscope by telling their own stories, and we are excited to see what they create for Drumstick."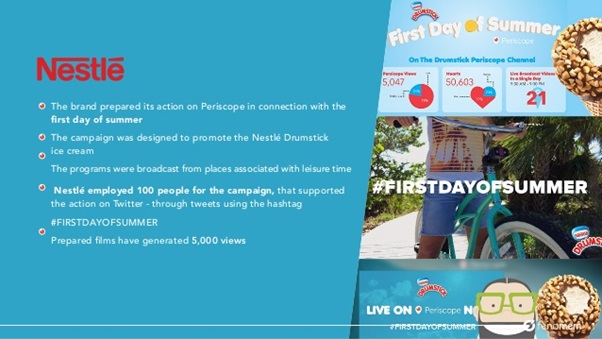 Videos on the Nestlé Drumstick Periscope Channel generated more than 5,000 views and more than 50,000 hearts in just over 12 hours, while influencer broadcasts generated 1,500 views and more than 64,000 hearts.