At a cost ranging between $100,000 up to $750,000 for 24-hour, Snapchat Lenses are the most premium add to buy on the app. But is it worth it? Cadbury's recently bet half its brand ad budget on the format for Crunchie's 'Obey your Mouth' campaign to find out…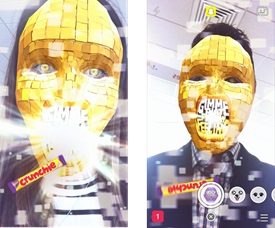 Case study summary
• Crunchie spent roughly half its yearly ad budget on a sponsored Snapchat Lenses campaign
• Lenses are often tied to specific events, so are perfectly suited to the brands 'Friday Feeling' slogan
• Brand created three lenses released to users over the last three Fridays in May
• Crunchie had been aiming for a total of 10 million views for the lenses. Its first attracted 9 million views alone- suggesting it has smashed its targets for all three campaigns.

The challenge
Sales of chocolate snacks have been declining in recent years, so Cadbury's needed to boost sales of its 'singles' bars – Wispa, Crunchie, Boost, Double Decker and Twirl – to a new, younger target market.
The marketing push is part of Cadbury's long-term "Obey Your Mouth" campaign, which launched on May 11.
Of Snapchat's 100 million active users, about 55 million are in the coveted 16 to 24 age range.
According to research firm Canvas8, 40 percent of teens in the U.K. are on the platform. bAs a result, Cadbury has spent half of Crunchie's digital budget on Snapchat— its top platform after TV and online video.
The solution
To create a Snapchat Lenses ad, advertisers and agencies need to spend time working with the apps developers and ad sales team to make their Lenses happen. They can't just re-purpose their other online ads and make a quick decision to buy.
Instead, advertisers and agencies submit their ideas to Snapchat, which goes ahead to create mock-ups of the animations itself in-house, which then go back to the brands to approve.
Snapchat Lenses can also be used without sound, so creative ideas need to translate without any explanation. As a result, Cadbury opted to make its lenses humorous with the novelty factor of seeing your face turned gold or having giant lips.


The brand created three different lenses for the Crunchie campaign. In keeping with the bar's "Get That Friday Feeling" tagline, these were released to users over the last three Fridays in May.
Cadbury's creative stage took around two months, while the engineering on Snapchat's side took around three weeks, as all its production is done in-house.

The results
The brand had been aiming for a total of 10 million views for the lenses. Its first, which morphed users' faces into a golden disco ball, attracted 9 million views. Cadbury does not yet have data for the other two, but initial signs indicate they also performed well.
Jerry Daykin, global digital partner at Cadbury's agency Carat said: "Lenses drive significant reach of an audience you would struggle to buy on TV. When you get it right, the average time people use [a Lens] can go up to a minute; it's very personal and very energetic."
He added that some influencers, including Zoella, shared the Creme Egg Lens with their followers, adding even more earned media that Cadbury didn't even need to buy.