Online retail company AN Commerce wanted to drive sales for their brand, My Makeup Brush Set. The company used video ads on Instagram to showcase the products, resulting in an exceptional return on ad spend.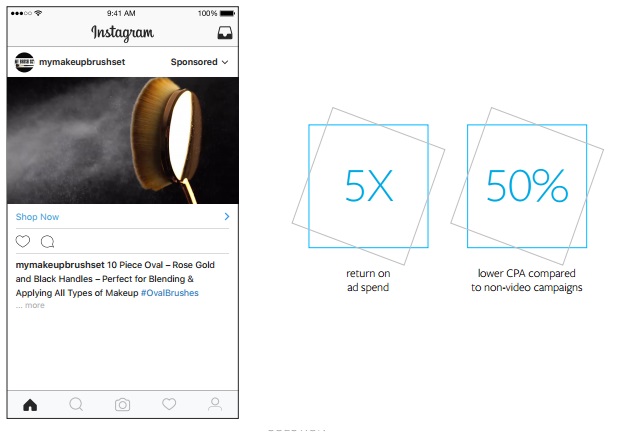 The challenge
Founded in 2014, AN Commerce manufactures and sells a variety of products for niche markets, including makeup accessories, jewelry, apparel and electronics. Its My Makeup Brush Set brand offers professional-quality makeup brushes at affordable prices.
AN Commerce wanted to increase awareness and online sales of the My Makeup Brush
Set products amongst millennial females on Instagram.

The solution
With its strong following of makeup enthusiasts, Instagram was the perfect platform to promote sales of AN Commerce's My Makeup Brush Set.
In an effort to engage their audience with unique creative, AN Commerce decided to reach out to cosmetic-focused members of the Instagram community to help develop and create videos for its direct-response ad campaign.
The results
The resulting 15-second video ads highlighted only the brushes, since product shots tend to be popular among the My Makeup Brush Set audience. The ads, which were targeted to broad audiences of women aged 18–34 with interests in makeup, cosmetics and accessories, were paired with a Shop Now call-to-action button that directed people to the product page on the website.
The videos were developed specifically for the brand's three-month-long Instagram campaign, but since they were so successful, the team decided to showcase the videos on the My Makeup Brush Set Facebook Page as well.
The ads generated a 5 times return on ad spend and a 50% lower cost per acquisition CPA) compared to non-video campaigns.
Nirav Ghandi, Founder, AN Commerce, said: "We started multiple AN Commerce brands on Facebook and, through our advertising efforts, our revenue has grown more than 100% every year—a pattern that would have been impossible without Facebook's platforms. Now, with My
Makeup Brush Set, we're able to create brands that are born on Instagram and cater to its audience."