Red Bull has taken content marketing to new levels, aiming to be the 'feature story' instead of the commercial. The company which began 'giving people wings' in 1987 when the first can was sold in Austria, has gone on to become a leading global brand creating and publishing amazing content. Red Bull has connected with its young audience by establishing itself as an enabler of thrill, sponsoring over 500 extreme sports, from base jumping, to snow sports, and even has its own Formula 1 team. Fans are kept up to date with all things extreme through a range of digital channels which even includes its own online TV channel – Red Bull TV.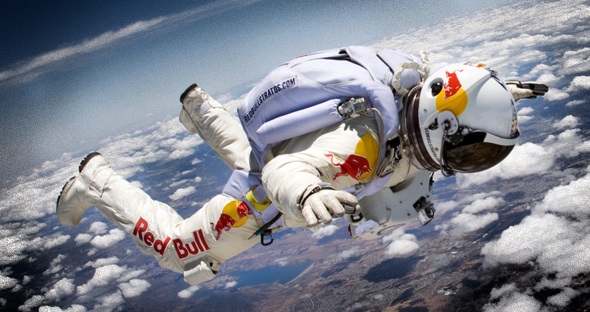 Case study summary
• Red Bull has redefined sports marketing in a major way
• Red Bull demonstrates the full potential of a brand as a publisher
• Red Bull is an innovator, creating incredible events such as the Red Bull Stratos space jump
Extreme sports
Red Bull is by far the most visible brand in extreme sports, and this association has given it a 'cool' image in the eyes of young people. The fact that Red Bull has stuck with this niche has given the brand an exciting and interesting edge which young people tend to gravitate towards.
Red Bull has redefined sports marketing; it's no longer about paying huge amounts of money to sponsor an event or team, it's about taking ownership. A great example of taking ownership can be seen when Red Bull entered the world of Formula 1.
In 2004, Red Bull bought the Jaguar F1 racing team, and since then has completely rebranded the team and gone on to win three constructors championships. They also own Scuderia Toro Rosso, another F1 team. Red Bull's decision to invest in F1 is clear as F1 is associated with speed, fearlessness, adventure and style, all things Red Bull wants customers to see in the brand.
As well as owning teams, Red Bull has created many extreme sporting events, such as the Red Bull Air Race which is considered to be the most advanced aerial challenge in the world and the fastest and most exhilarating motorsport. This year 12 pilots are competing over eight races to become the Red Bull Air Race World Champion.
Red Bull has changed sports marketing, owning a team or creating an event as part of a marketing strategy is very different to other brands which simply pay huge amounts of money to have their logos displayed on cars, jerseys and merchandise.
As well as creating events and teams, Red Bull does sponsor countless extreme sporting events from ESPN's X Games to NASCAR, these sponsorships communicate to its customers that Red Bull loves extreme sporting events as much as they do, giving customers another reason to love the brand.
Red Bull Stratos
The Red Bull Stratos project was a remarkable event, and a huge leap forward in terms of marketing. On the 14th October 2012, sponsored by Red Bull Austrian skydiver Felix Baumgartner jumped from near space, out of a capsule 39Km into the stratosphere and 'flew' back to Earth. The jump created new world records and generated more media attention than any advert could. The buzz that Red Bull was able to create around the event was incredible, the Red Bull Stratos Space Jump live YouTube stream was watched by 8 million and since then the highlights video has been viewed over 37 million times on YouTube.
What made the event stand out was that it underlined the brands authentic link to extreme sport and innovation; Red Bull owned the event and used social media to connect with their target market who love an adrenaline rush. The Red Bull slogan "gives you wings" fitted perfectly with Baumgartner's jump.
Aside from excellent marketing, the brand not only created and funded an extreme mission to the edge of space it also created data that could benefit NASA and scientists all over the world.


That awkward moment when you realize an energy drink has a better space program than your nation. #livejump #RedBullStratos

— Daniel Reichert (@dgreichert) October 14, 2012
Content marketing
Red Bull demonstrates the full potential of a brand creating, publishing and capitalising on almost all multimedia channels. Focusing on extreme sports and the athletes and the amazing feats they are engaging in, Red Bull delivers content with stunning visuals promoting the activities and athletes directly and the brand indirectly.
The marketing is about telling a story of personal achievement and raising the bar further than you thought you could. Such ideals are true to extreme sports and fearless athletes. Customers engaged in the content feels inspired to push themselves and go further. Red Bull isn't selling its customers an energy drink, its selling what happens when you drink it and in order to do this they have created a publishing empire.
Marketing results
Red Bull took advantage of the lack of media attention to extreme sports and has redefined marketing in sports. Taking ownership of events and teams, everything Red Bull is doing is creative, energetic and exciting – in keeping with their brand identity.
Red Bull as a publisher has created Red Bull Media House which is focussed on creating and publishing amazing content. Much of the content is from the owned extreme sports teams and events. Publishing this content has generated large amounts of earned media; Red Bull has 46 million likes on Facebook and 4 million subscribers to their YouTube channel.
It is evident that Red Bull's marketing strategy is to: be the feature story instead of the commercial. The value of this strategy for the brand is that fans associate positive things with the brand and in return engage with the brand.