With every major brand trying to make the most noise in social spaces, how do you get people to notice something new? Taco Bell decided to stop making noise altogether. This case study looks at how the US fast food brand shut down its social media accounts to generate hype around its app- driving a huge number of subscribers and making number 22 in the iOS App Store in the process.
Case study summary
• Taco Bell makes social media channels go 'dark'
• Single message on Facebook, Twitter, Instagram, Tumblr directs fans to free app
• 'Blackout' generates huge hype online and on TV
• Just 24 hours after launch, 75% of all stores had processed a mobile order
The company and its agency Digitas worked with Twitter to "reset" its Twitter presence. There is now a @tacobell account with zero followers and a separate, protected account called @totallynothere that has the 1.4 million followers from the original account.
The only tweet visible on the @tacobell account now is a link to download the new app:
The challenge
Taco Bell hired agency agency Digitas to find a way to promote Taco Bell's new mobile ordering app. With the brand seen as one of the most engaging voices in social media, the agency had to do something novel. But a barrage of Tweets, Facebook and Tumblr posts meant we were fighting to win every scrap of attention.
The solution
They worked on a strategy that Taco Bell's many social fans would notice – and turned its channels off altogether. Social, websites, TV ads ¬¬– all of them. The brand blacked out its pages, leaving a single post promoting our hashtag – #onlyintheapp. This effectively drove followers to try the new service.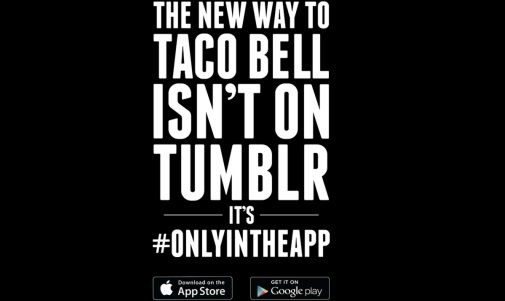 The Results
The strategy worked. Just 24 hours after launch, 75% of all stores had processed a mobile order. As the buzz grew, the app rapidly climbed to the number one spot in the App Store's food and drink category. And after three days, Taco Bell had two billion earned impressions.
The app skyrocketed to be the 22nd most downloaded app for iOS users in the United States, according to the App Annie app intelligence site, making it bigger than Google Maps, Twitter and Gmail.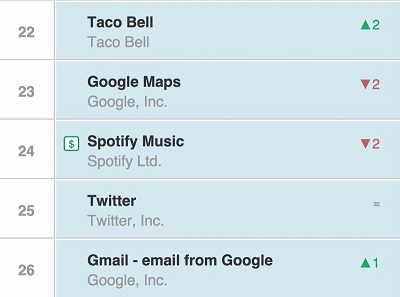 "We wanted to make sure that the message broke through. There are thousands of apps that launch every day," said Tressie Lieberman, senior director of digital marketing and platforms at Taco Bell. "We are a brand of firsts. We like to do things that have never been done before."