Restaurant chain KFC made its Flying Bucket stunt go viral with Facebook video ads, reaching millions of people throughout the United Arab Emirates in just one week at a cost per view 5X below benchmark.
• KFC looks to maintain market leading position in UAE
• Flying bucket stunt reminds people that they deliver almost anywhere
• One minute viral video appeared as video ads in its audience's Facebook News Feeds
• Demographic and interest-based targeting used to reach 15- to 35 -year-olds
• Video reached a third of the population with 80% view through rate
The challenge
KFC has led the casual service restaurant delivery scene in the UAE for 25 years. As the only quick service restaurant brand to deliver across all 7 emirates, it reaches customers in remote areas where others don't operate. However, a competitor recently started challenging this comfortable lead.
The solution
To remind people that it delivers virtually anywhere in the UAE, KFC created a video showing a unique stunt. Its goal was to get this video out to a large audience and then get people sharing and talking about it all across the UAE.
The next step was to share the content with the rest of the UAE. KFC produced a one-minute video of the stunt, which appeared as video ads in its audience's News Feeds. Demographic and interest-based targetingwas used to ensure that the video was seen by an audience of 15- to 35 -year-olds who were interested in sports, food, lifestyle and adventure.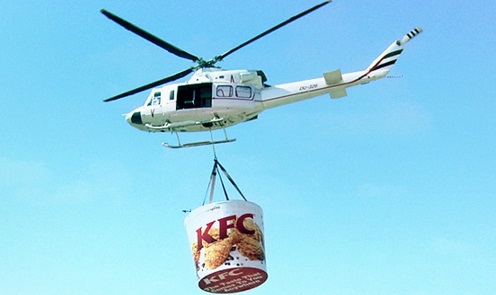 Ahmed Hatem, Marketing Director, Americana UAE, said: "We wanted to seed our video content onto a platform that can deliver high reach in a very short time span; we also wanted people to engage with our content and be able to easily share it. First and foremost, we wanted to convey our message loud and clear. We partnered with Facebook because we believed it had the secret recipe that enables us to deliver on these goals"
In a country that loves to break records and be the first, 'bigger, taller, faster' videos are widely watched and shared online. KFC and its agency Initiative came up with an unprecedented event to highlight its unique delivery capabilities, delivering a huge bucket of sandwiches by helicopter to thousands of beachgoers. The entire operation was captured on film, including the priceless reactions of people as they received and enjoyed their surprise food delivery.
The results
There were a flood of positive comments about the stunt on KFC's Facebook Page, and the conversation quickly spread. The story was picked up by multiple news websites and soon became the talk of the town.
In under a week, the video reached 3.6 million people on Facebook: an impressive number, considering the country's total population is just 9.3 million. The video post delivered 2.9 million views, with an organic reach of 12% and an all-time low cost per view.
The April 2015 campaign successfully reaffirmed the message that KFC delivers everywhere, and reinforced its position as the leading quick service restaurant brand in the UAE.
Highlights of the results include:
• 3.6 million people reached
• 80% view-through rate
• 33-second average video view

Ahmed Hatem, Marketing Director, Americana UAE, said: "The numbers we recorded went above and beyond expectations. I am very satisfied with the overall performance of this campaign."