Ever bought something in a sale that you later regretted? Snickers blame these shopping errors on hunger to tie in with their "You're Not You When You're Hungry" campaign. This case study looks at how Snickers helped shoppers in Dubai resell unwanted items they bought in the sales.
Case study summary
• Snickers wanted to launch its worldwide 'You're not you when you're hungry' campaign in Dubai
• Snickers partnered with Dubizzle.com to offer shoppers the opportunity to resell unwanted items they had bought (when hungry) during the sales in Snickers banners on the Dubizzle.com homepage
• The campaign was hugely successful with 80% of items posted being sold on the same day and a CTR five times higher than the industry standard
The challenge
The Snickers campaign 'You're not you when you're hungry' has been hugely successful all over the world, and Snickers wanted to launch this campaign in the Middle East. Dubai has forty of the largest shopping malls in the world attracting more than 100 million visitors each year, during sale season millions of people buy unwanted items, a problem Snickers attributes to being hungry. To introduce people in Dubai to the threats of doing things they wouldn't normally do when hungry, Snickers launched the 'Snickers Hungry Purchase Resale' campaign.

The solution
Snickers partnered with advertising agency Impact BBDO and Dubizzle.com (Dubai's leading classified website) to give shoppers the opportunity to uploaded items they wanted to sell straight to into the Snickers branded banners that appeared on the Dubaizzle.com homepage.
The expandable banner began with a warning message: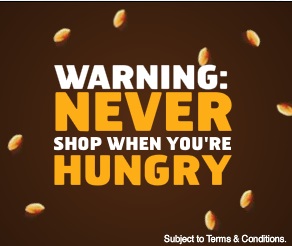 When a customer rolled their mouse over the ad it showed a larger animation: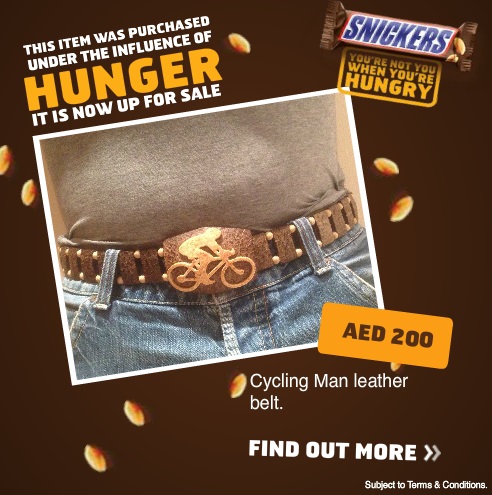 View the banner campaign demo here
The results
In the first week of launching the campaign on the Dubizzle.com, Snickers received over 200 admissions of unwanted items to sell, items received a CTR five times higher than the industry standard which resulted in 80% of the items posted being sold on the same day, a huge success for both customers and Snickers.